PositivCares was created for one primary purpose: to offer our viewers an opportunity and gateway to do something positive,
to give back
. The charities you see have been carefully selected for their commendable work and the extraordinary difference they make in the lives of countless others. PositivCares is honored to spotlight and support these noteworthy organizations. Along with your help, we know we can be positive partners for a world in need of care.
July is our month of Heroes to Cheer For, and it is an honor to extend the partnership with our friends at Tunnel to Towers. To help out others who have been affected by COVID-19, Tunnel to Towers has supported many lives. To date, they have raised more than $5 million to assist those on the frontlines in the United States.
In a special "Presidential Recognition Ceremony: Hard Work, Heroism and Hope" at the White House, President Donald J. Trump acknowledged and honored Tunnel to Towers Chairman and CEO Frank Siller for their organization's noble work. Tunnels to Towers has supported our nation's heroes with donations of personal protective equipment and meals. When tragedy strikes, they started their COVID-19 Heroes Fund to assist with temporary mortgage payments for the families these heroes leave behind.
The families of frontline workers receiving support are in 11 different states: California, New York, New Jersey, North Carolina, Illinois, Louisiana, Washington, Indiana, Texas, Arkansas, and Florida. At the moment, Tunnel to Towers has impacted countless lives and has done the following:
- Delivered more than 3.1 Million pieces of personal protective equipment (PPE) since late March. That's over 1,000,000 pieces per month.
- Deliveries went to 12 states, including, to the epicenter of the pandemic, New York, with more than 100 deliveries made to NYC alone, along with New Jersey, Connecticut, Massachusetts, Georgia, Illinois, and Michigan.
- The Foundation has delivered PPE throughout the pandemic to many, including 45 hospitals, 65 nursing homes, more than 45 police precincts, and courts and more than 20 fire departments or EMS stations.
Here are just a few of our nation's heroes who fought on the frontlines to save others – and will remain in our hearts for their act of heroism.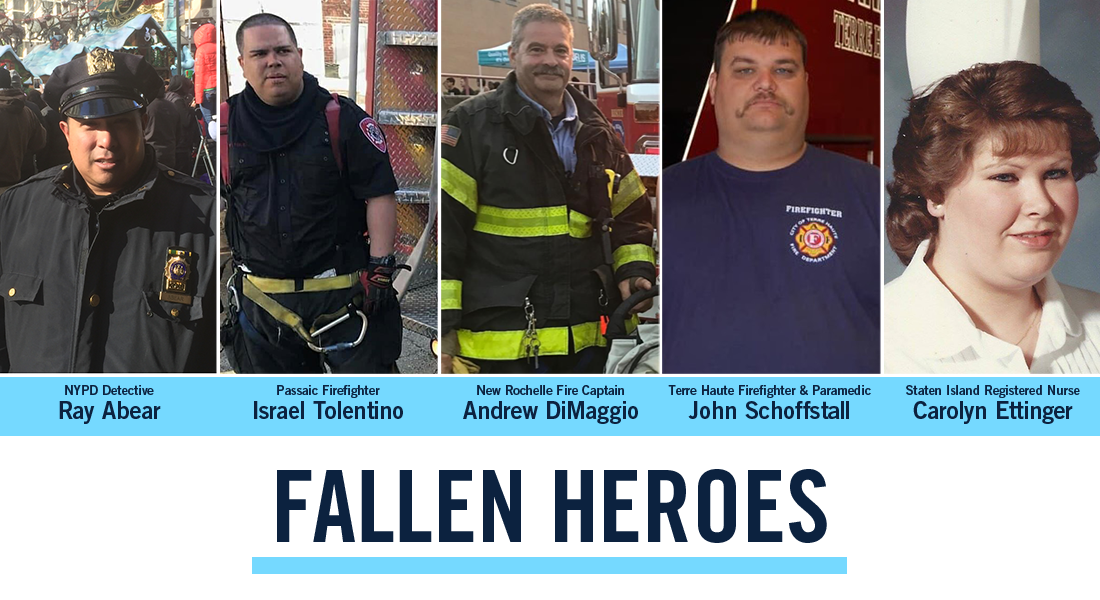 • New York City Police Detective Ray Abear passed away on April 13 from COVID-19. The 19-year veteran of the NYPD left behind his wife Catherine and two children, 2-year-old Jackson and 4- month-old Stella.
• Indiana firefighter and paramedic John Schoffstall passed away on April 12, leaving behind his wife Jennifer, son Jake and daughter Jaidyn.
• Israel Tolentino Jr., a Passaic, NJ firefighter, passed away from complications after contracting COVID-19 on March 31.
• New Rochelle, NY Fire Captain Andrew DiMaggio, lost his battle to COVID-19 on May 3.
• RN Carolyn Ettinger worked as the Director of Nursing at the Verrazano Nursing Home on Staten Island, NY, before losing her life to the disease on April 22.

"The COVID-19 Heroes Fund means security, compassion, love, kindness, and overall honor."
- Maria Vasquez
Tunnel to Towers has made a significant impact on the lives of many individuals. It has taken a considerable effort to aid the community and families in need during this unprecedented time. It is now our chance to help and give back to our nation's heroes. Please visit here to learn how you can help.

From all of us at Positiv, we thank you for your support.