PositivCares was created for one primary purpose: to offer our viewers an opportunity and gateway to do something positive,

to give back

. The charities you see have been carefully selected for their commendable work and the extraordinary differ

ence they make in the lives of countless others. PositivCares is honored to spotlight and support these noteworthy organizations. Along with your help, we know we can be positive partners for a world in need of care.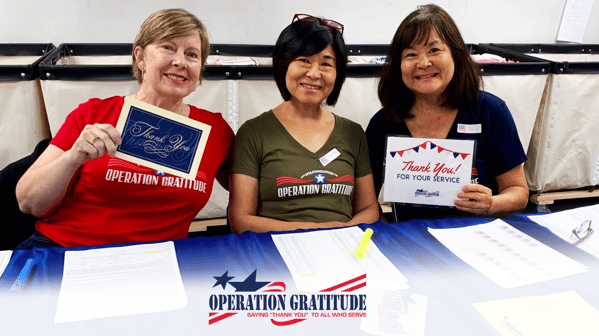 We are pleased to partner with our friends, Operation Gratitude for our Bravery and Benevolence movie month. Operation Gratitude's mission is to forge strong bonds between Americans and their Military and First Responder heroes through volunteer service projects, acts of gratitude, and meaningful engagements in communities nationwide.
Who would've ever imagined a few handwritten letters and care packages can be as impactful and life-changing as it has been for these heroes? In March of 2003, Operation Gratitude sent its first four care packages to deployed service members in Iraq. Since its inception, the organization has given millions of Americans the opportunity to go a step beyond saying "thank you for your service" through hands-on volunteerism, lifting the spirits of millions of deployed troops, recruit graduates, veterans, military families, first responders, and healthcare heroes.

Through donation drives volunteers are the heart and soul of the organization., letter-writing campaigns, craft projects, service projects, and other activities, the grassroots nonprofit is creating opportunities for citizens, in and out of uniform, to serve together, make meaningful connections, and better understand one another. In doing so, Operation Gratitude is strengthening communities across the country by building bridges between civilians, military, veterans, first responders, and their families.
COVID-19 RESPONSE
March 2020 marked one of the most challenging and difficult years for the nation. Despite the mayhem we experienced during COVID-19, Operation Gratitude launched one of the largest coordinated efforts in the country to support the brave men and women on the frontlines of the pandemic. They seized the opportunity to help essential workers in need. As a military nonprofit, they understood and recognized the challenges these workers were going through fighting an invisible enemy on the battlefield. As a result, over 500,000 Care Packages were sent to frontline responders and deployed military.
Due to their utmost dedication, passion, and attention to our first responders and service men and women, they have managed to touch the lives of so many individuals nationwide. If you're interested in helping, Operation Gratitude is always in need of volunteers or you can donate to help make a difference today. To learn more, please click here.
On behalf of Positiv, we appreciate your contribution.